How Do I Know Palliative Care is Right for Me?
Palliative care is right for you if you have a serious illness, regardless of age or illness level.
Can I Still Receive Curative Treatments While Using Palliative Care?
Yes, definitely. Palliative care helps ease the side effects of curative treatments like chemotherapy and radiation. Palliative care also provides relief from the pain and symptoms of serious illness. It does not take the place of treatment from your current doctors, nor does it mean you can no longer seek treatment.
Do I Have to Give Up My Own Doctor?
No. Our palliative care specialists work with your physician and/or specialists. While this is a very common palliative question, rest assured you won't be required to give up your regular doctors or treatments, or hope for a cure.
How Does Palliative Care Help Me Choose the Best Treatment Option?
The Samaritan palliative care team will spend time talking and listening to you and your family. They will make sure you completely understand all of your treatment options and choices. By deeply exploring your personal goals, the palliative care team will help you match those goals to the options. They will work with your current physician or specialist. This gives you more control over your care. Contact us now to learn more: (800) 229-8183.
What Does a Palliative Doctor Do That's Different From What My Other Doctors Do?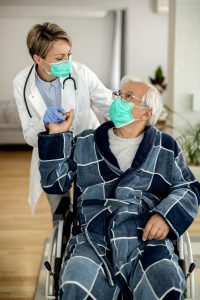 Other doctors focus on your general health or treating your disease or condition. Palliative doctors and nurse practitioners focus on addressing pain and symptoms, improving your quality of life, and helping you and your loved ones cope with the stress and burden of your illness.
Shouldn't All My Doctors Be Concerned with Alleviating My Suffering and Improving My Quality of Life?
Yes, of course. But palliative care experts have special training and expertise in pain management and symptom control, and specialize in helping patients and their families cope with the many stresses of a serious illness, from the side effects of a medical treatment to caregiver stress to fears about the future.
Palliative care physicians, nurse practitioners, and social workers can assist you with difficult medical decisions and help you weigh the pros and cons of various treatments.
In other words: your primary doctors should be focused on your illness, while palliative experts focus specifically on your physicals emotional, and spiritual comfort.
Who Pays for Palliative Care?
Palliative Medical Partners visits are covered by Medicare, Medicaid, and most commercial insurers with applicable co-payments and deductibles. If you have any questions about coverage and cost, please call us at (800) 229-8183.